Profitable and effective animal breeding . The strategy of the sector's development was discussed at the Ministry of Agriculture
2017-07-22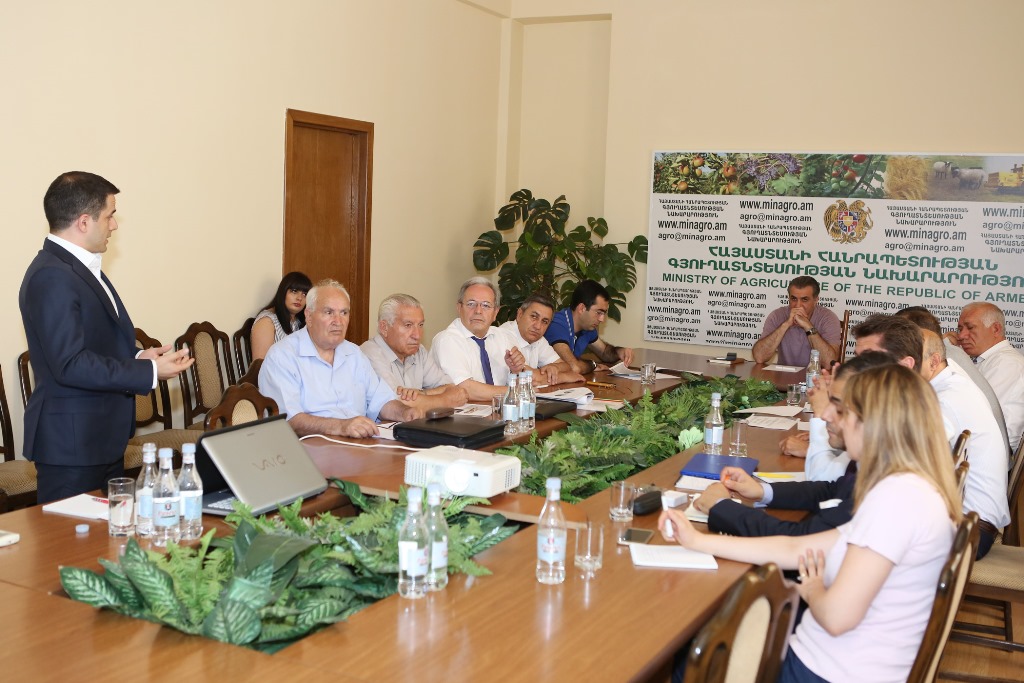 On July 22, Mr. Ignati Arakelyan, RA Minister of Agriculture held a consultation with the purpose of discussing the breeding strategy in Armenia developed by the RA Ministry of Agriculture and the working groups of professors of National Agrarian University. Mr. Ashot Harutyunyan and Mr. Robert Makaryan, Deputy Ministers of Agriculture and Mr. Tony Berkon, the representative of the French "Sodial" Company, who arrived in Armenia with the intention to invest in cattle breeding, were also present at the consultation.
Welcoming the participants and presenting the guest, the Minister of Agriculture Ignati Araqelyan noted that Sodial company is a large cooperative specialized in cattle breeding and milk processing in France, which aims to localize its experience in Armenia, expressing hope that the program will be the basis for further cooperation.
"We offer a complex program of a number of strategic issues aimed at the development of livestock, by which the sector will become profitable for small and medium-sized economies and attractive for investors," the Minister said.
Ashot Grigoryan, an expert of the RA Fund for Rural and Agricultural Support, presenting the program developed by the working group noted that in the sphere there are development trends: comparing to the previous years, in 2016 there is  growth in the production of meat and dairy products, besides domestic consumption Armenia has serious ambitions towards Arab countries and Iran- concerning the export of sheep meat, and in the case of high-quality cheese production, Russia can be a good market. The expert added, however, that there are a number of challenges in this sphere, particularly low productivity and efficiency, which makes the cattle breeding an unattractive sphere for investors and farmers.
The first direction proposed by the strategy is the development of breeding farms, the clarification of their criteria. Within the framework of the project, it is envisaged to supply generations of poultry breeding farms to small and medium-sized households. The next step is to create an artificial insemination station that will enable the artificial insemination to improve the livestock gene pool.
It is planned to develop cattle breeding and sheep breeding with both imported and local breeds. As a result, the productivity of animals will increase substantially, the income of the farms will increase, exports will grow, and the infrastructures will be developed.
According to the estimation of experts,  cattle breeding can provide high returns for small and medium-sized households.
Summarizing the discussion, Ignati Arakelyan positively assessed the project and underlined that the breeding development project should start from a pilot program, with the intention of enlarging the efficiency with private investors.
In the details of the creation of an artificial insemination station, the Minister proposed to address the issue after the joint discussions with the European experts, and to finalize the pilot program for small and medium-sized enterprises and report about the results.
Division of Information and Public Relations of
the RA Ministry of Agriculture
Print