The RA Minister of Agriculture Receives the Newly Appointed Ambassador of the People's Republic of China to Armenia Tian Erlong
2015-03-02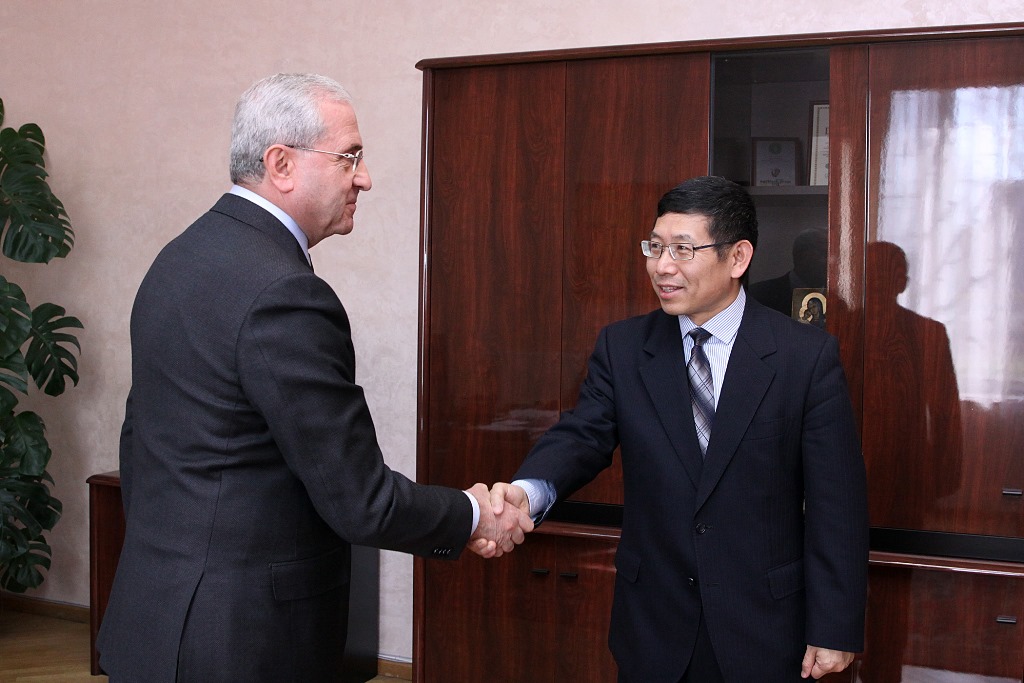 Today the RA Minister of Agriculture Sergo Karapetyan received Tian Erlong, the newly appointed ambassador extraordinary and plenipotentiary of the People's Republic of China to Armenia.
Congratulating the guest on assuming the diplomatic mission in our country the Minister expressed conviction that while the ambassador is holding the position, the Armenian-Chinese relations will be regenerated.
Thoroughly addressing current agricultural cooperation between two countries the Minister mentioned that after the independence of Armenia the Chinese government had greatly supported Armenian agriculture in terms of machinery.
"We are interested in increasing the export volumes of the Armenian agricultural products to Chinese market",- mentioned Sergo Karapetyan adding with contentment that the brandy and wine export volumes were specifically increasing day by day. 
During the meeting the Minister also suggested discussing the possibility of introducing the Chinese model of cooperatives in Armenia. 
Ambassador Tian Erlong mentioned that he was interested in developing and deepening the relations between the two countries in agriculture and particularly food safety sphere and expressed willingness to support the cooperation expansion in the sphere.
During the meeting the minister suggested organizing an agricultural business forum in Armenia, which would allow the parties to get introduced to the food produced in both countries, as well as would promote the business relations and the involvement of new investors. 
As possible directions for the mutual cooperation development in agrarian sphere between the two countries, the parties mentioned the establishment of joint enterprises, construction of greenhouses, installation of anti-hail nets and drip irrigation systems, as well as promotion og cooperation in scientific and advisory spheres.   
At the end of the meeting the RA Minister of Agriculture asked the Ambassador to invite his Chinese colleague on the minister's behalf to visit Armenia in 2015.  
Division of Information and Public Relations of
the RA Ministry of Agriculture
Print