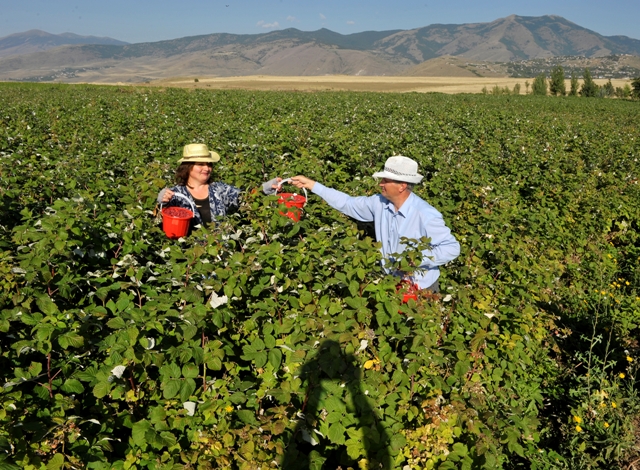 In 2014, agricultural crops sowing areas totalled 332.76 hectares, 318.06 hectares in the previous year. Necessary preconditions were created to continue this trend in the coming years. In 2014 gross output growth was recorded in almost all crops except in fruit sorts – apricot.
Characterizing data of 2014 crop production volumes, according to the NSS data, are presented below.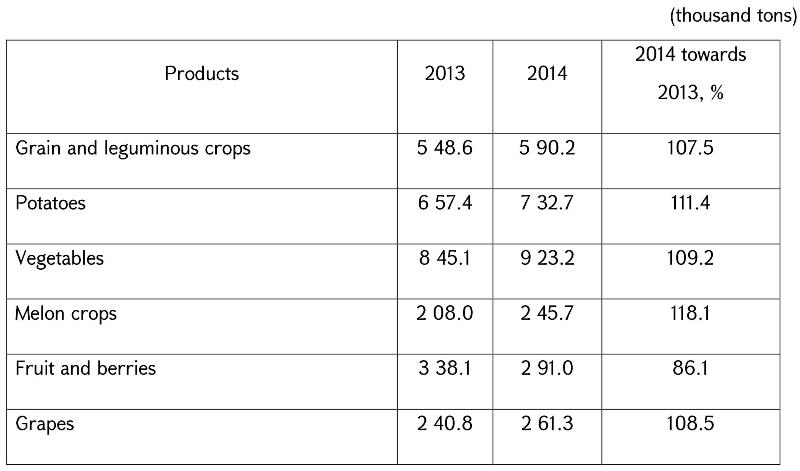 Over the last years several projects are implemented directed at improvement of targeted use of agricultural land resources, development of grain production and increase of grain crops sufficiency. One can distinguish.
1. "Grain seed breeding and production development project in the Republic of Armenia for 2010-2014".  Since 2010 under this project elite seeds of autumn wheat have been imported and purchased from local producers and provided to the beneficiaries meeting the standards and requirements of the project on condition that next year the first reproduced quantity of seeds will be returned with 1:2 proportion. The returned seeds are delivered to the RA Regional Administrations to provide to the farmers displaying an interest to cultivate up to 3 ha land on contractual basis.
2. "Breeding of wheat autumn seeds, development of high yielding seeds production in the Republic of Armenia for 2012-2017" and "Breeding of wheat autumn seeds, development of high yielding seeds production in the Republic of Armenia for 2013-2018" are in progress. Within the frame of these projects in 2012 and 2013 twenty tons of super elite seeds of autumn wheat were imported into the country per year and in 2012 and 2013 were provided to 12 seed producing business entities. 
3. In 2015  public support project of spring-barley, alfalfa, melilot, corn for spring sowing is still carried out, under which the seeds will be provided at  lower (subsidized) prices obtained by the state. Thus, in 2015 spring-barley has been purchased  with the price of 324.6 AMD per kg and  provided to  farmers with the price of 130 AMD, corn  has been purchased with the price of  932.5 AMD and provided to farmers with the price of 350 AMD,  alfalfa has been purchased with the price of 2695 AMD and  provided to farmers with the price of 1500 AMD, and melilot has been purchased with the price of 562.9 AMD and provided to farmers with the price of 370 AMD.
Complex fertilization of nitrogen, phosphate and potassium fertilizers is a guarantee for a rich and high yield. Since 2014 within the framework of the public support project   nitrogen  fertilizer  50kg per bag with the price of 6000 AMD,   potassium and phosphoric fertilizers 50kg per  bag with the price of 7000 AMD  have been provided to the RA land farmers, organizations and the Republic of Nagorno Karabakh for obtaining nitrogen, phosphate, potassium fertilizers at reasonable prices significantly lower than market prices.
At the same time the public support project is carried out for the purchase of diesel fuel at reasonable prices for the RA farmers' agricultural activities, under which farmers are provided with 1 liter of diesel fuel with the price of 350 AMD.
In recent years, economists are seriously interested in the construction of greenhouses.  According to the data collected by the RA Regional Administrations, in 2014,   640 hectares of a total greenhouse space  was operated, out of which 23.7 hectares with the newest technologies. As of March 2015 the total area of greenhouses is 763.62 hectares, out of which 74.25 hectares with new technologies.
Tomatoes, cucumbers, peppers, eggplant, beans, potatoes, strawberries, greens (leafy vegetables) are grown in the greenhouses. A yield of 1 sq. meter ranges from 8 to 20 kg in greenhouses with conventional technologies, and from 40 to 50 kg in greenhouses with modern technologies.
In 2014, the ministry received 9 business proposals of about 79.63 million dollars for 50 hectares aiming to build greenhouses  with the demand for credit funds, which were presented to the RA Central Bank for the purpose of the use of loans by the Russian banks (VTB).
In Kotayk the construction of about 51 hectares of greenhouses with modern technologies will be over in 2015, out of which an area of 46 hectares will be membranous and an area of 5 hectares – glassed.
In addition to the 30 hectares of the greenhouses built in the community Shahoumyan of the RA region Ararat in 2014-2015, it is planned to expand the greenhouse space by 40-50 hectares.
On February 12, 2015 the Government approved an amendment project according to which not only the import of greenhouse constructions, a number of resources used in greenhouse production but also the internal circulation exempt from value added tax.
In 2014, under the project "Plant protection measures" fighting measures were implemented on an area of 62025 hectares by the Ministry of Agriculture on the following components.
Fight against mouse-like rodents: in spring and fall the Regional Administrations were provided with 6591.6 kg "Aluminium phosphide" pesticide free of charge and by the help of farmers fight was implemented in the most affected areas of agricultural land totalling 54930 hectares.

Fight against forest pests and diseases: air fight measures were implemented in 6,300 hectares of forest areas in the affiliates of  "Aragatsotn  Forestry" in Aragatsotn,  "Hrazdan Forestry" in Kotayk and "Vayots Dzor Forestry" in Vayots Dzor.

In recent years the locusts contamination levels are low. In strong affected areas measures have been implemented by the communities' insecticide resources allocated free of charge by the Ministry of Agriculture. In 2014, P. Sevak and Narek communities of the region Ararat  were allocated with 119.25 liters of insecticide, by which work was carried out in 795 hectares of agricultural land.
In 2014,   172 90173 hectares of agricultural land were examined within the framework of "Project of agrochemical research and increase of the fertility of soil". Based on the results 172 agrochemicals maps and crop fertilization recommendations were drawn.
According to the National Statistical Service, in 2014 the value of gross agricultural output amounted to 993.4 billion AMD, surpassing the 2013 figure by 7.2, including crop products 605.7 billion AMD, surpassing the previous year's level by 6.6 %.