Mr. Ignati Arakelyan, Minister Of Agriculture Of Ra Received The Representatives Of Armenian Lawyers Association
2017-02-17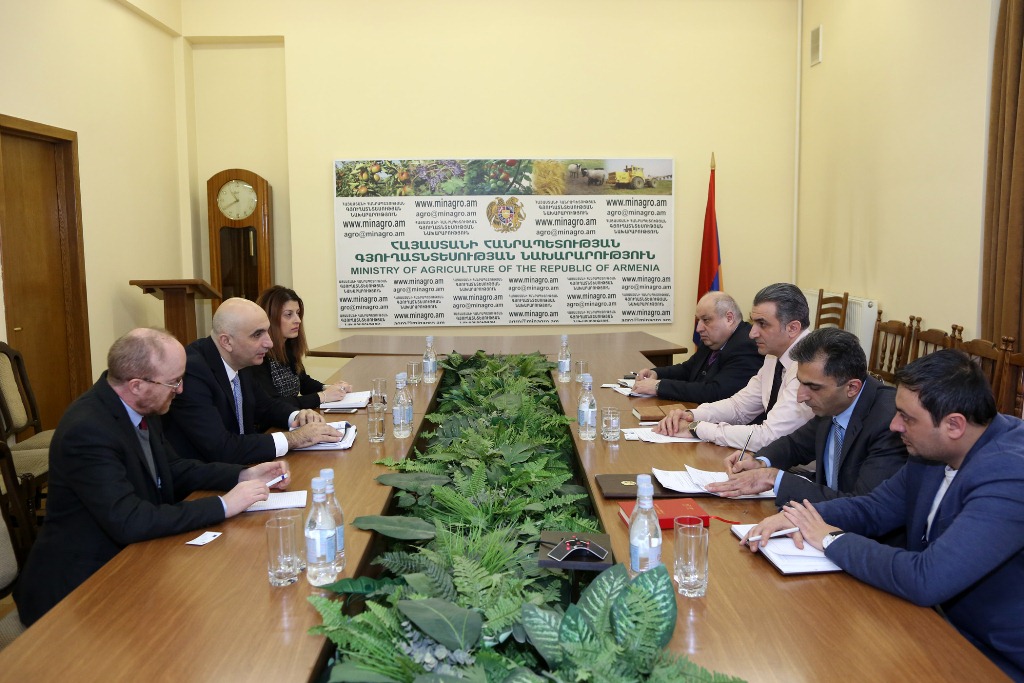 Mr. Ignati Arakelyan, Minister of Agriculture of RA today received the delegation Armenian Lawyers Association, which was headed by Mr. Karen Zadoyan, President of the Association. The aim of the meeting is to identify the priority problems of the agricultural field and to discuss possible ways of cooperation with the Ministry of Agriculture within the framework of implemented programs.
During the meeting Mr. Karen Zadoyan informed that by the assistance of the  European Union together with several partner organizations Association is going to implement "Commitment of Constructive Dialogue" project in Armenia`s regions, which has been launched in December, 2016 for 34 months. He noted that the main goal of the project is to identify the existing problems in several fields, especially in the agricultural field and to develop new public policy programs by the involvement of civil society.
In his speech Mr. Zadoyan noted that particularly, in Syunik, Gegharkunik, Lori and Shirak Marzes, by the help of expert assistance the project will promote establishment of NGOs and their participation at the process of elaboration and implementation of agriculture policy.  
Mr. Ignati Arakelyan, Minister of Agriculture of RA welcomed the activity of Association and noted that there is a public council at the Ministry, he also mentioned that he regularly met with specialists and representatives of public organizations and he gave high importance to the development of a single document regulating agricultural field: RA Law on Agriculture. Minister noted that the specialists of the Ministry are ready to provide an active support in order to work more efficiently and timely.
"Today there are separate laws, many concepts in agriculture, which prevent unified regulation of the sphere. We are ready to unify all forces interested in resolving this problem and to take steps for investigation of the issue, if possible",- Mr. Ignati Arakelyan, Minister noted.
Other issues of mutual interest have been discussed.
Division of Information and Public Relations of
the RA Ministry of Agriculture
Print