A Memorandum Of Cooperation Was Signed Between The Ministry Of Agriculture And The Center For Agribusiness And Rural Development (CARD) Foundation
2017-02-08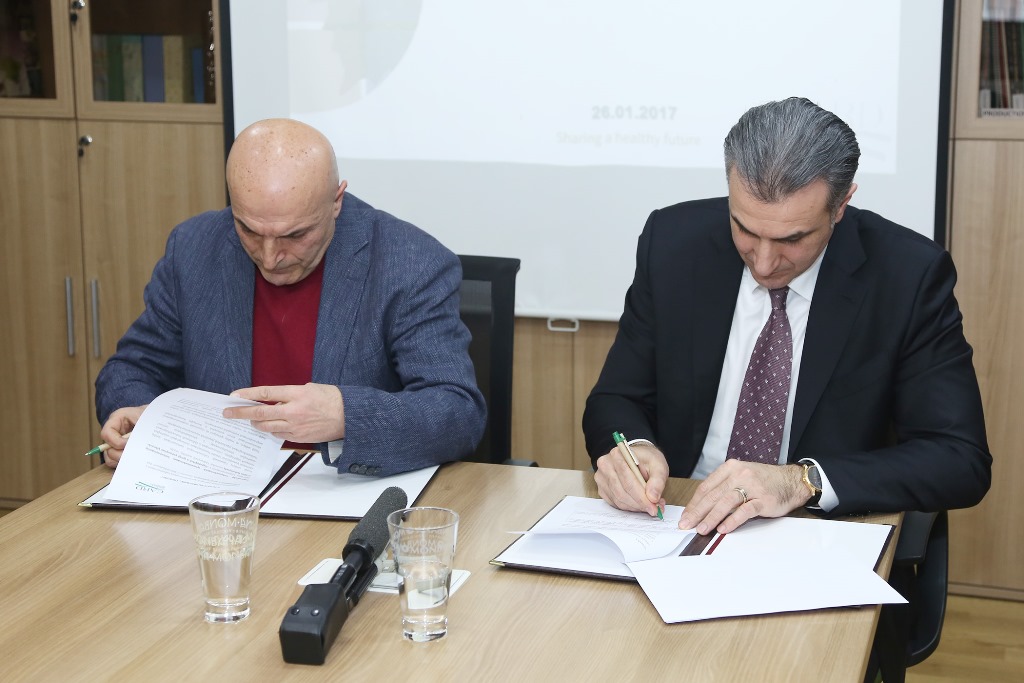 Mr. Ignati Arakelyan, RA Minister of Agriculture visited Agricultural and Veterinary Service Centre of Aragatsavan Community.
Mr. Gagik Sardaryan, Director of the CARD Foundation and Mr. Gegham Gevorgyan, Acting Director of "Agricultural Projects Implementation Unit" State Agency, accompanied Minister during the visit, who talked to the employees and veterinarians of the centre.
Then Mr. Ignati Arakelyan visited the Center for Agribusiness and Rural Development (CARD) Foundation and observed the ongoing activities of the centre.
During this visit, a Memorandum of Cooperation was signed between the Ministry of Agriculture and the CARD Foundation. According to the Memorandum, a working group is going to be established, which will develop effective mechanisms for the issues of enhancing quality of vaccination activities, improvement of services of "Veterinary-Sanitary and Phytosanitary Services Center" SNCO, as well as for increase of awareness of livestock breeding farms.
"According to the Memorandum, vaccination function implemented by state program will be carried out jointly with the CARD Foundation, and I am sure that the cooperation will succeed. Agricultural and Veterinary Service Centers were established and the veterinarians passed trainings in the framework of "Community Agricultural Resource Management and Competitiveness" project, and today we have a platform which we can use more effectively for realizing state vaccination program, we can fill the gaps year after year, improve the system, gradually delegating that function from the state to the private sector. By signing the Memorandum the State emphasizes its readiness to cooperate with the private sector and to develop every direction", – Mr. Ignati Arakelyan, the Minister noted.
Minister hoped that as a result of cooperation with the CARD Foundation, livestock vaccinations will be implemented by more transparent and effective program in 2018.
Mr. Ignati Arakelyan informed that livestock identification program will be implemented for the future.
Mr. Gagik Sardaryan in his turn emphasized that the CARD Foundation is going to support the RA Ministry of Agriculture in the field of implementation of the priority projects. In his speech he assured that all veterinary service centers are equipped with modern equipments and staffed with highly qualified specialists to carry out veterinary and livestock different projects.
Division of Information and Public Relations of
the RA Ministry of Agriculture
Print