The RA Minister of Agriculture Visited Syunik Region
2015-11-06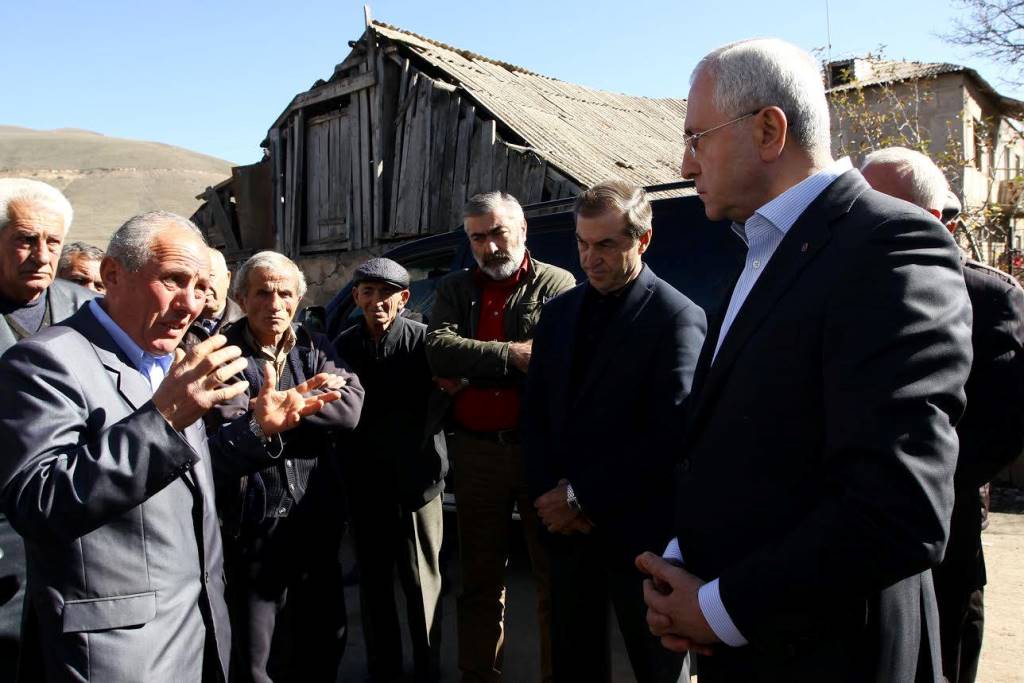 The RA Minister of Agriculture Sergo Karapetyan paid a working visit to Syunik region. The Minister was accompanied by Surik Khachatryan, the Governor of Syunik region, Gagik Khachatryan, the director of "Agricultural Projects Implementation Unit", Martun Matevosyan, the director of "Hayantar" (ArmForest) SNCO.

The Minister visited Tolors community and talked with the residents about their concerns. The villagers particularly highlighted the issue of agricultural products realization, focusing on the problem of low prices of meat and milk, as well as purchasing payments. Tolors residents are concerned about the depreciation of agricultural machinery, which hampers agricultural work time and quality performance.

Referring to the question related to purchases the Minister particularly noted that this year has been notable for the abundance of the harvest, which caused some difficulties related to the grape harvest but the Ministry has simultaneously given operational solutions and done its best to settle the issues. The Minister said that the low prices of a number of food products (wheat, milk) are due to the international tendency and have a temporary nature.

The Minister said that in all regions, including Syunik, it is planned to build slaughterhouses that will contribute to solving the problem of meat realization, as well as setting up small processing workshops, which will relieve the anxiety of the realization of agricultural products.

During the meeting the residents expressed their desire to join the "Community Agricultural Resource Management and Competitiveness" Project, which will enable to irrigate about 1,300 hectares of remote pastures. The Minister noted that the Project executives have already been assigned to conduct studies of the issue.

The Minister urged the villagers to set up an agricultural cooperative, which will help better organize and promote farmers' incomes. The Minister said more than 100 cooperatives are established in the country and the results are satisfactory.

The Minister also assured that in 2016 the state support projects of granting of subsidized loans and seed, fertilizer, fuel with reasonable prices will continue on the President's instructions.

Then the Minister Sergo Karapetyan visited the cheese workshop of "Borisovka" LLC in Tsghuk community. The director of the company said that they work with 150 farmers from 6 communities, process 9,000 liters of milk a day, produce butter and 7 types of cheese, 3 of them European Mozzarella, Camembert, Ricotta. He said that it is planned to expand the areas and increase the production volumes around three-fold. The Minister expressed satisfaction on the work done, adding that the company will also participate in the project of Grant Competition for Agriculture Value Chain Development of "Agricultural Projects Implementation Unit" and if the conditions are met the company will get a grant up to 50 thousand dollars for building capacity, improvement of food security and increase of export opportunities for the purpose of carrying the same amount of investment.
Division of Information and Public Relations of
the RA Ministry of Agriculture
Print