Farm and Veterinary Service Centre is Opened in Hayravank Community of Gegharkunik Region
2015-10-20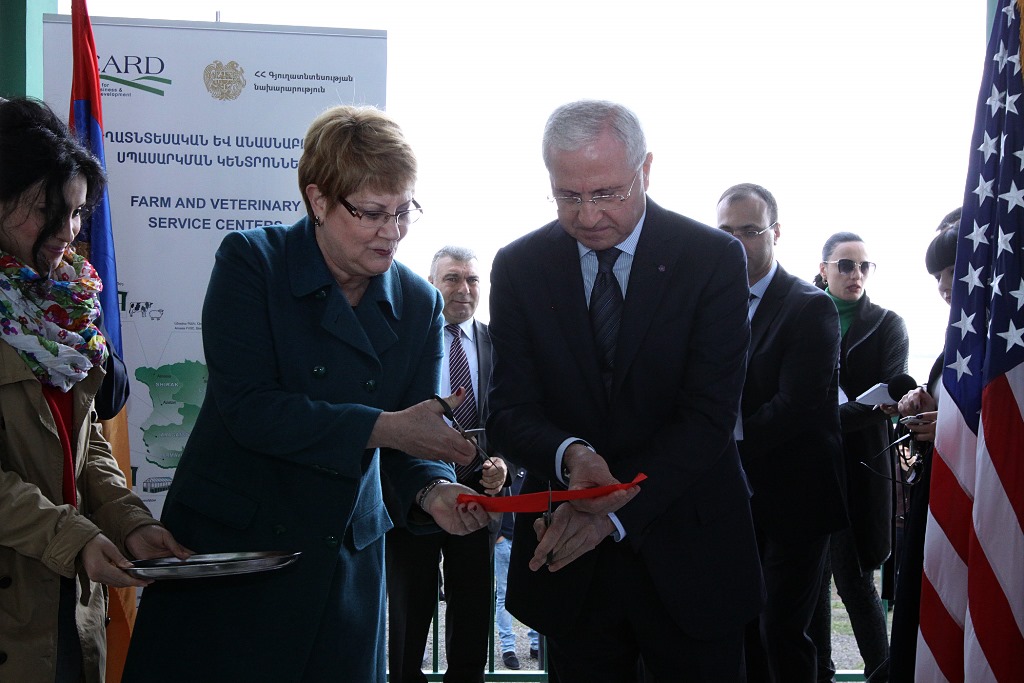 The RA Minister of Agriculture Sergo Karapetyan participated in the opening ceremony of a new Farm and Veterinary Service Centre in Hayravank community of Gegharkunik region. The event was attended by USAID Armenia Mission Director Karen Hilliard, governor of Gegharkunik region Rafik Grigoryan, director of "Agribusiness and Rural Development» (CARD) Foundation Gagik Sardaryan, farmers and guests.

"Gegharkunik region has a special place in terms of the number of cattle and in this regard it is the leader of our country. I am convinced that the opening of the centre will contribute to the further development and expansion of the livestock sector in the region," the Minister of Agriculture Sergo Karapetyan said in his opening remarks.

The Minister said that the new one is the 12th service centre in the country. In the coming month the Ministry of Agriculture, US Agency for International Development plan to open two more similar centres in Chambarak and Vardenis communities of Gegharkunik region.

Referring to the "Community Agricultural Resource Management and Competitiveness" project the Minister Sergo Karapetyan noted that currently more than 40 communities of the region are involved in the project. Stressing the importance and effectiveness of the project the Minister added that such projects will be implemented in all the regions.

USAID Armenia Mission Director Karen Hilliard stressed the importance of the agricultural sector development, particularly in Gegharkunik region, which provides about 20 percent of the country's agricultural output. According to her, the agricultural sector has great potential in Armenia, and USAID's goal is to promote the efficient use of that potential.

The new specialized center, which was established by the CARD Foundation financed by USAID, will provide community veterinarians, farmers and individuals with businesses and technical assistance on issues related to animal health and husbandry. In the center skilled professionals will work who will provide  necessary consulting services.

The center will contribute to the spread of advanced agricultural business machinery. It will enhance the skills of local farmers to share best practices with all those who provide agricultural and veterinary care, as well as livestock services. The center will also provide livestock artificial insemination services.

In addition, the center will hold workshops and training programs that will be conducted by local and foreign specialists. It is expected to serve more than 2 thousand farmers from 10 communities of Gegharkunik region.

Then the Minister Sergo Karapetyan visited Gandzak community where he followed the potato harvesting process. The Minister assured that this year potato crop is plentiful and of high quality, and farmers get about 600 quintal of crops per hectare.

Summing up the results of the visit the Minister noted that in 2015 high figures have been recorded in the agricultural sector of Gegharkunik region, cattle livestock has increased by 4.6%, due to which volumes of animal products have also increased.
Division of Information and Public Relations of
the RA Ministry of Agriculture
Print