The RA Minister of Agriculture Visited Shirak Region
2015-07-01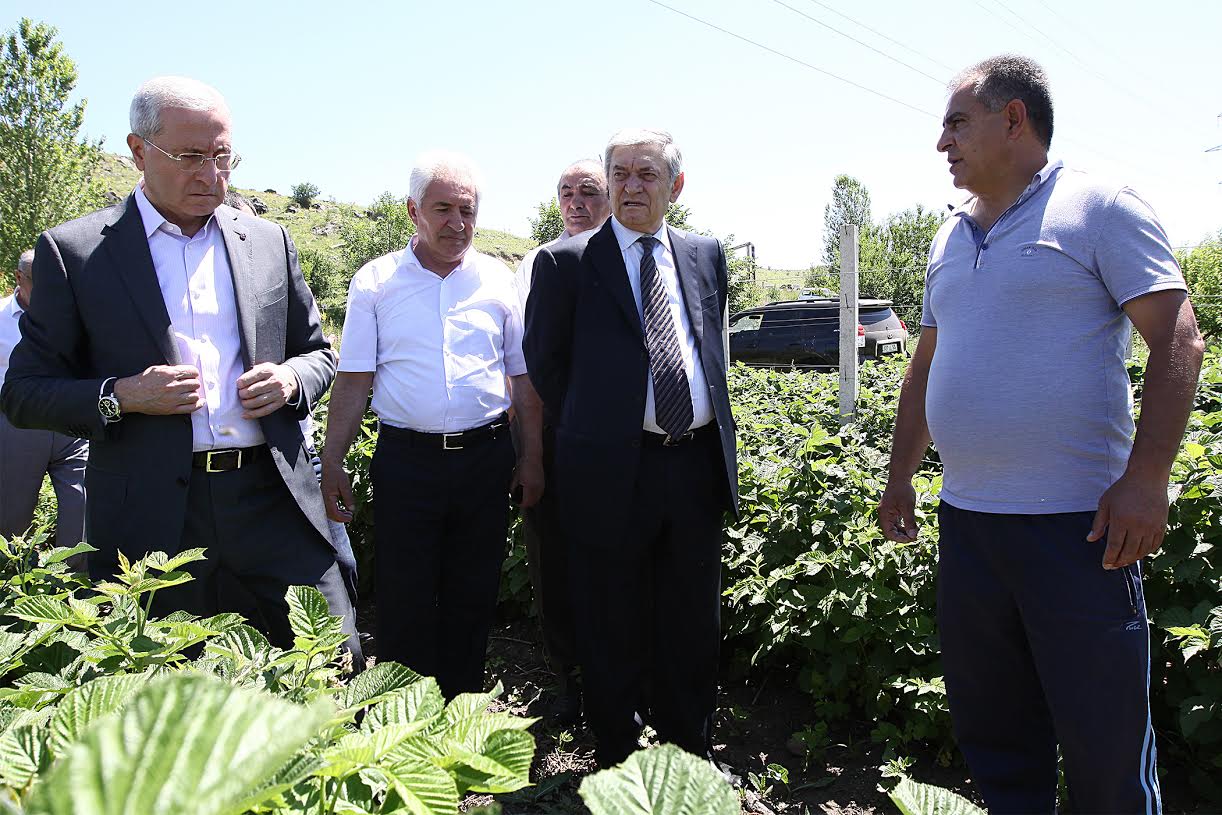 The RA Minister of Agriculture Sergo Karapetyan paid a working visit to Shirak region to observe the state project results of seed-growing, seed production and organic orchards establishment.
The Minister Sergo Karapetyan, accompanied by the governor of Shirak region Felix Tsolakyan, was in Marmashen community resident Karen Arshakian's farm. The farmer has set up 3 hectares of organic raspberry plants, installed a drip irrigation system under the tripartite contract signed between the Ministry of Agriculture and "Tamara fruit" company in 2010. Now he is pleased with the harvest, gets about 1.5 tons of raspberries per hectare, has an eight-year contract with "Tamara fruit" company. The Minister urged to add agricultural areas of raspberry cultivation. Karen Arshakyan is also engaged in ostrich breeding.
The farmer of the same community Alexander Markosyan is a beneficiary of the development project of wheat seed-growing and seed production.  2.1 tons of elite seeds of winter wheat "Vassa" were allocated to him. This year at the expense of the allocated seeds the farmer has made about 7 hectares of sowing. He is pleased with the harvest and expects about 8 tons of yields per hectare.
After passing through the wheat fields the Minister Sergo Karapetyan visited "Gyumri Selection Station". The director of "Gyumri Selection Station" Rubik Karakhanyan said that here grain crops are grown on 170 hectares out of which 95 hectares are composed of winter wheat and 75 hectares of spring barley sowing areas. Not only local but also imported varieties are used. Rubik Karakhanyan said this year compared to last year will be 20-25% higher yield.
During the interview with the media the Minister Karapetyan expressed satisfaction with the results of the projects, stressing that high guaranteed harvest is expected from the wheat sowing areas.
"Thanks to the implementing projects, we are able to solve the problem of food security in the country. If the grain self-sufficiency rate was 33% in 2010, then this figure rose to 52% in 2014, now we aim to ensure 65% self-sufficiency in 2020″, the Minister said in his speech.
The Minister said the country had 62% cultivated land in 2010, but now that figure has risen to 74%. He also added that this year more than 17 300 hectares have already been cultivated, and thus the total arable land area has reached 78%, and 84% land of the total sowing areas is cultivated  in Shirak region, which is a good indicator.
Division of Information and Public Relations of
the RA Ministry of Agriculture
Print