The RA Minister of Agriculture Sergo Karapetyan Visited Tavush Region
2015-07-15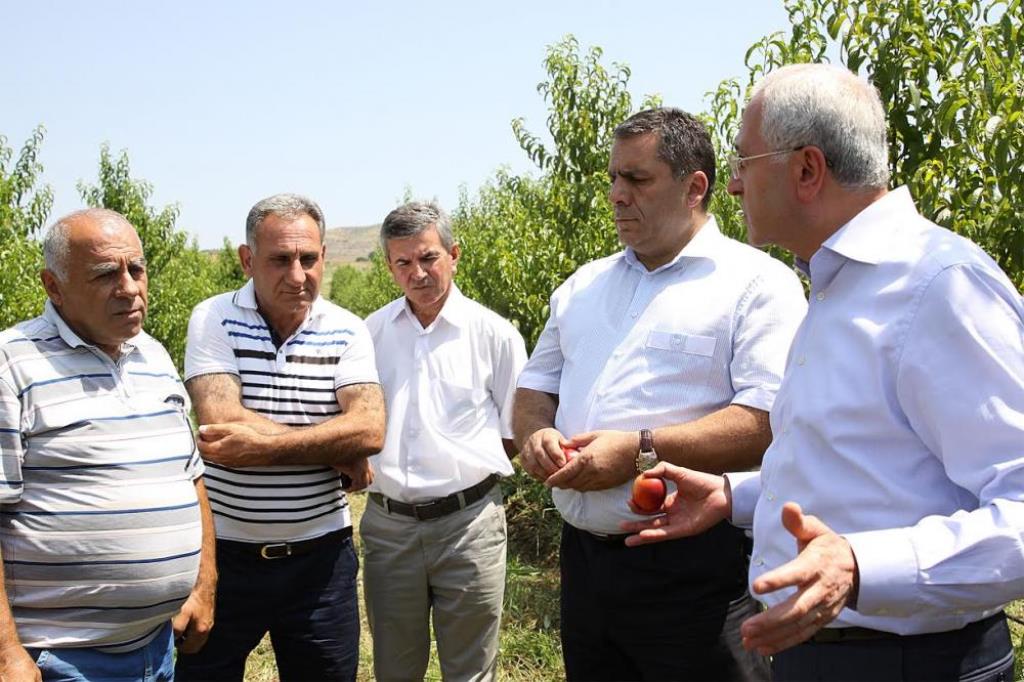 The RA Minister of Agriculture Sergo Karapetyan visited Tavush region to follow the process of the orchards development, production and sales.
The first stop of the visit was in Ptghavan community, where the Minister, accompanied by Hovik Abovyan was in the nectarine orchards established by "Fruit Armenia" Open Joint-Stock Company and got acquainted with the carried out activities. Under the project, 24 hectares of peach, nectarine, cherry, walnut and plum trees orchards are established in Archis, Debetavan and Ptghavan communities of Tavush region. 
Two years ago, "Fruit Armenia" company established about 4.5 hectares of nectarine and peach orchards on farmer Spartak Ghazaryan's land. By the project's resources seedlings have been imported from Italy, a drip irrigation system has been installed. Soon anti-hail nets will also be installed in the orchards. The farmer is satisfied with the results of the project, orchards are intensive, therefore, up to 5 tons yield is expected per hectare. 
"This year rich peach harvest is expected in Tavush region, the grape harvest will exceed last year's figure by 20-25 percent," the Minister said in his speech. Concerning the purchase price the Minister noted that the Ministry will follow, so the prices are reasonable and mutually beneficial. 
In Bagratashen community the Minister visited the workshop of dried fruit of "Viva fruit" LLC founded by the help of international organizations, where dried fruits of peach, black plum, pear, apricot and are made. The company's director Vigen Hovhannisyan said that the products are ecologically clean and are mainly exported to Russia. 
The Minister Sergo Karapetyan also was in the 55 hectares of olive orchards in Bagratashen community, which is established in the mid-1960s. Here farmer Tigran Bejanyan reported that they cultivate 4 types of olives, this year they expect 10-11 tons of harvest, are satisfied with the sales and the sales price. 
The Minister visited farmer Armen Gabrielyan in Archis community. Armen Gabrielyan is engaged in the cultivation of peach trees, has about 7,000 square meters of peach orchard, he is pleased with this year's harvest.
Division of Information and Public Relations of
the RA Ministry of Agriculture

Print