The RA Minister of Agriculture Discussed the Cooperation Prospects with the Ambassador of Japan to Armenia Eiji Taguchi
2015-07-09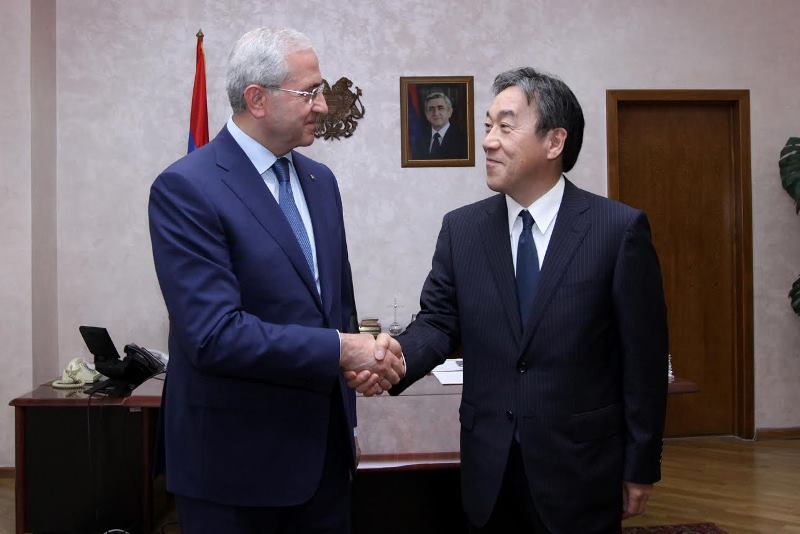 The RA Minister of Agriculture Sergo Karapetyan received the newly appointed Extraordinary and Plenipotentiary Ambassador of Japan to Armenia Eiji Taguchi.
Congratulating the Ambassador on starting his diplomatic mission in Armenia Sergo Karapetyan expressed the hope that the opening of the Embassy of Japan in Yerevan will promote cooperation between the two countries, including in agriculture.
"The Japanese government strongly supported Armenia after independence, especially in the agricultural sector development and I am sure that your appointment will further strengthen and develop the relations between our two countries",  the Minister Sergo Karapetyan said.
Highly appreciating the activities implemented in Armenia by the Japan International Cooperation Agency (JICA) within the framework of which a grant is provided for the purchase of technical resources, equipments and services, the Minister stressed that this agency's activities will greatly contribute to our country's agricultural sector. In addition, the Minister stressed the importance of courses in different specialties that JICA organizes, which are attended by the staff of the Ministry of Agriculture and a number of specialists of the system.
Expressing his gratitude for warm reception the Ambassador Taguchi expressed confidence that there is a great potential between Armenia and Japan in the agricultural sector, and measures must be taken for the best use this potential.
During the meeting the parties also discussed the studies and the preparatory work under the Yeghvard irrigation system improvement project by JICA for which the Japanese government will provide loan funds. The project provides the reservoir recovery in Yeghvard and modernization of irrigation systems in the region.
Expressing confidence that Armenia's agricultural products, including wine, brandy, fresh fruits and vegetables, fish food and dried fruits can be of great interest and demand in the Japanese market, the Minister Sergo Karapetyan proposed to organize an exhibition of agricultural products in Japan. In response to the proposal the Ambassador Taguchi expressed readiness to explore the possibility of organizing such an exhibition.
At the end of the meeting the parties reiterated their commitment to make the necessary steps towards the deepening of the Armenian-Japanese relations.
Division of Information and Public Relations of
the RA Ministry of Agriculture
Print