The Miniter Of Agriculture Of Georgia is in Armenia on a Working Visit
2015-07-07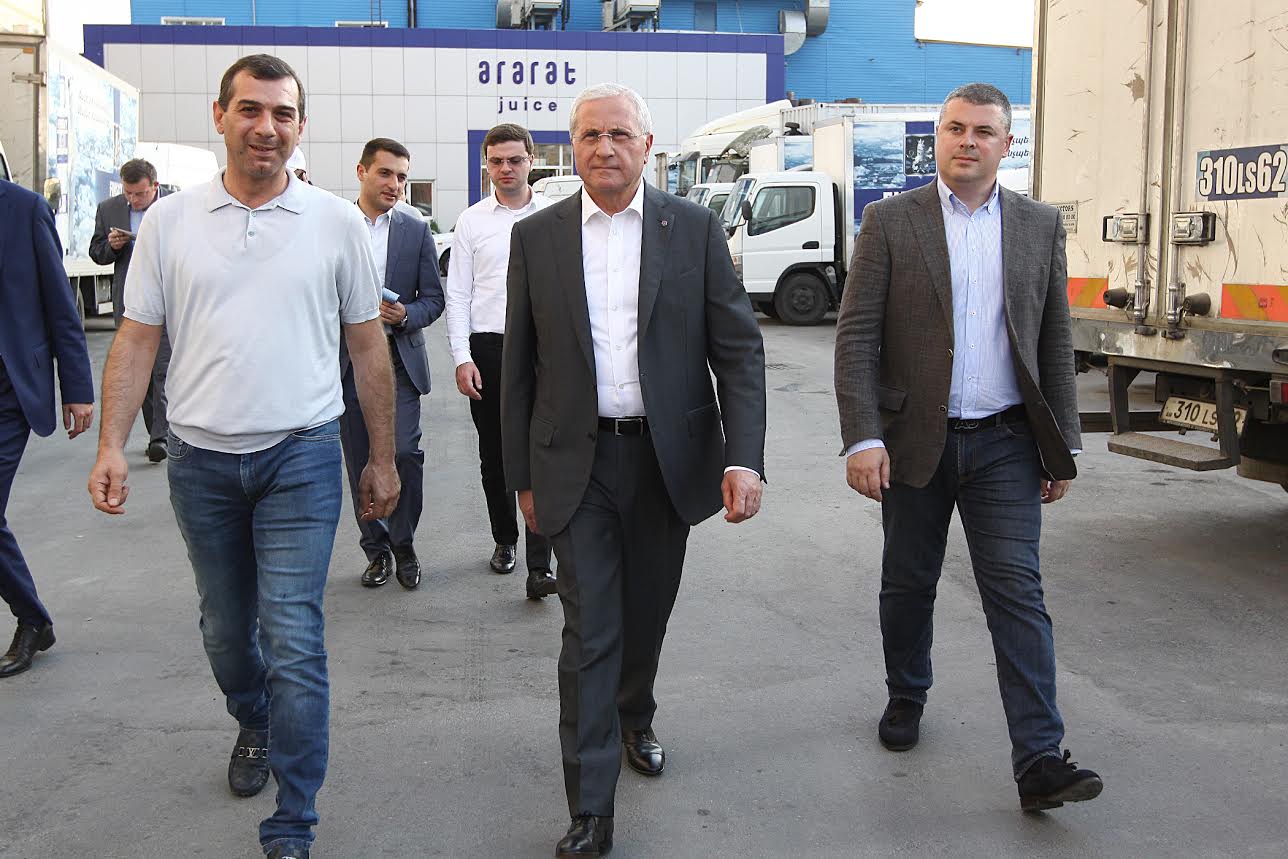 The Minister of Agriculture of Georgia Otar Danelia arrived in Armenia on a two-day working visit. The Minister of Agriculture of Armenia Sergo Karapetyan welcomed his Georgian counterpart. During the visit, Otar Danelia  visited  a number of  farms equipped with modern technologies.
The Ministers of Agriculture of the two countries visited "Ararat Food Factory" and "The Golden Grape Armas" companies.
In "Ararat Food Factory" the Ministers toured the workshops of juice, tea and jam, followed the production process, observed the embedded technologies, particularly the Swedish flow production work, as well as the company's laboratory.
The company's director Yervand Tarverdyan said that the company has one of the largest laboratories, which is equipped with ultra-modern, expensive equipments, which control the products' high quality.
Then the Ministers went to "Golden Grape Armas" Company in Aragatsotn region which is engaged in agricultural activities. Sergo Karapetyan and Otar Danelia toured the vineyards, the factory of wine and brandy equipped with Italian modern technologies, which produces red, white and rose wines called «ArmAs». The products are sold not only in domestic market but are also exported.
The Minister of Agriculture Sergo Karapetyan said that the Georgian partners are mostly interested in the observation of Armenian experience in the development of production of canned food, fish farms, cattle farms and the investment opportunities in their country.
"As neighboring countries we have much to learn from one another in agriculture, and this visit is particularly important for the exchange of experience, as well as the strengthening of the partnership," the Minister of Agriculture Sergo Karapetyan noted.
The Minister Sergo Karapetyan added that a return visit to Georgia is expected.
The Minister Otar Danelia in his turn, expressed satisfaction with the high level of the agricultural sector in Armenia.
"This is my first official visit to Armenia, and I am very happy to visit your country. I must say that we are very impressed by how advanced is your country's agriculture sector. I am sure that in many ways we can help each other, exchange experience," the Minister Otar Danelia said.
Otar Danelia expressed confidence that there is a great potential in the Armenia-Georgia cooperation in the field of agriculture, as well as in exports, which needs to be used.
The Ministers of Agriculture of Georgia and Armenia visited a fish farm in Ararat region and the greenhouses of "Spayka" company, then went to the livestock complex in Jermuk.
Division of Information and Public Relations of
the RA Ministry of Agriculture
Print