The RA Minister of Agriculture Was in Ararat Region. Exporting Process of Apricots Continues
2015-06-24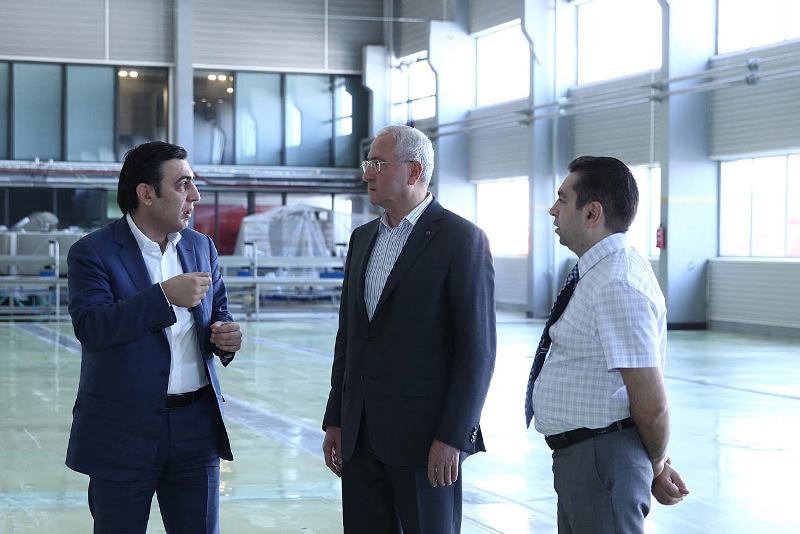 For observing the process of organizing fresh fruits and vegetables exports the Minister of Agriculture Sergo Karapetyan visited the "Spayka" Company, as well as Nerkin Dvin, Abovyan and Jrashen communities in Ararat region.
Initially the Minister walked through the company's refrigerators, followed the apricot loading process accompanied by the "Spayka" company's CEO David Ghazaryan. The head of the company's project management department Karen Baghdasaryan informed that this year features an abundant harvest, and the company plans to triple the volume of exports until the end of the year. He added that the company has already exported 20 thousand tons of fresh fruits and vegetables.
Then the Minister left for Nerkin Dvin community in Ararat region, where he and the governor of Ararat region Rubik Abrahamyan were in the farmer Gevorg Nazaryan's apricot orchards with a total area of 5 hectares. The farmer said that he personally engages in the export of garden crops, for which there are appropriate arrangements in Russia. Expressing satisfaction with the quantity and quality of this year's apricot crops the farmer hoped that this year's apricot harvest will be about 60-70 tons.
The Minister's next stop was Jrashen community where the farmer Grigor Vardanyan engaged in cultivation of 3 hectares of apricots said that he expects to export about 10 tons of apricots.
Villagers told the Minister that they are satisfied with the purchase prices: the purchase price of 1 kg apricot is 450-500 drams in the garden.
During a press conference the Minister Sergo Karapetyan noted that this year not only apricot production but also export volumes are satisfying.
"Every day about 1000 tons of apricots are exported from the Republic and 5500 tons have already been exported. This year, crops are frostbitten in Uzbekistan, which implements large-scale apricot exports to the Russian Federation and the Armenian apricots are more in demand in the Russian market",   the Minister said.
The Minister said that in general this year about 30 000 tons of fresh fruits and vegetables have been exported, the figure was 24 300 tons in the same period last year.
The Minister also said that in a few days the procurement process of apricot harvest will begin in the processing companies.
Expressing satisfaction with the overall indices of the region the Minister also noted that this year the region has increased sowing cultivation by 1000 hectares reaching 24 thousand hectares. Currently 91 percent of arable land is cultivated.
Division of Information and Public Relations of
the  RA Ministry of Agriculture
Print