The RA Minister of Agriculture Discussed the Joint Projects with the USAID Delegation
2015-06-16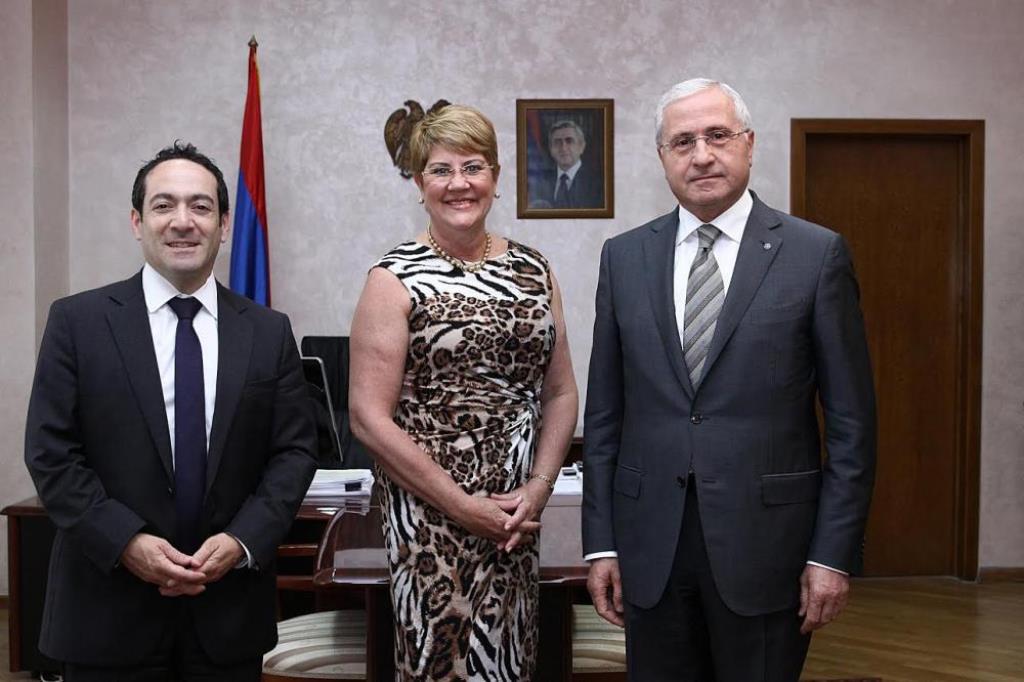 The RA Minister of Agriculture Sergo Karapetyan received the delegation of the US Agency for International Development (USAID) comprising the Deputy Assistant Administrator of USAID Jonathan Katz and the Agency Mission Director for Armenia Karen Hilliard. The aim of the meeting was to discuss the projects implemented by USAID and the further prospects of cooperation with the Ministry of Agriculture.
Stressing the projects "Clean Energy and Water", "Promotion of agricultural census," as well as "Agribusiness Teaching Center and the International Center for Agribusiness Research and Education" for the successful conduct and efficiency Sergo Karapetyan expressed confidence that these projects will greatly contribute to Armenia's agricultural development and the betterment of the community.
The Minister also briefed on the current state of agriculture, pointed out the priorities. Referring to the current issues in the sector the Minister particularly stressed the urgent importance of the livestock identification and numbering, the investment of  resource-efficient technologies in fisheries. In this context, the Minister highlighted the importance of the implementations of pilot projects aimed at introducing new water saving systems  in a number of fish farms.
"In a number of agricultural sectors there are opportunities  not only to double but to triple the production volumes, which will lead to an increase in export volumes," said the Minister  in his speech.
At the same time the Minister stressed that Armenia attaches importance to the US and EU countries to expand relations in various fields, including agricultural sphere and exports of competitive agricultural products to the European market.
For his part, Mr Katz claimed that the bilateral projects being implemented in the agriculture sector will be continued. He also found it possible to further expand the scope of programs implemented in Armenia by the Agency in accordance with the priorities of the sector.
Division of Information and Public Relations of
the RA Ministry of Agriculture
Print