The Minister Followed the Harvesting Process in Armavir Region
2015-06-18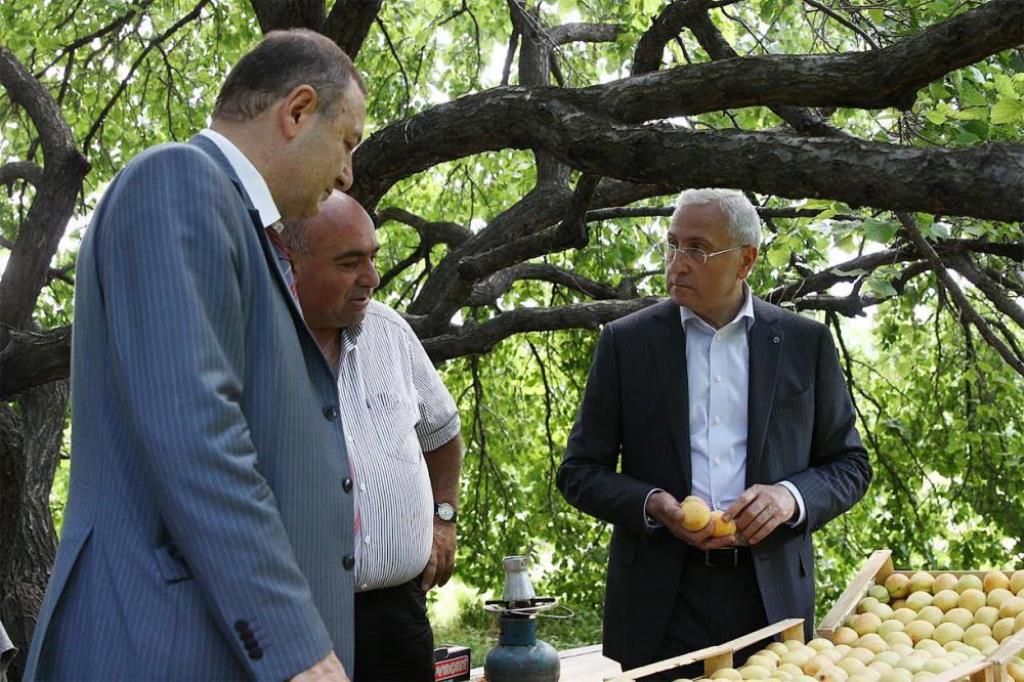 The RA Minister of Agriculture Sergo Karapetyan paid a working visit to Armavir region, where he followed the harvesting process with the governor of Armavir region Ashot Ghahramanyan in Yeghegnut, Vardanashen, Janfida and Aygeshat communities.
During the visit, the Minister assured that in all the communities harvesting activities are conducted normally, the villagers are satisfied, the year is fruitful, there has not been a problem.
Seryozha Karapetyan – a farmer in Yeghegnut who has carried out cultivation of eggplants on 15 hectares and watermelons on 2 hectares this year, already has the first harvest of eggplants. He is satisfied with the volumes and the quality, the weather conditions are favorable, irrigation has been organized properly. The farmer expects rich watermelon crops, harvesting of which will begin in a few days.
In Vardanashen community the Minister was  in one of the greenhouses, where this year over 1000 square meters of vegetables – tomatoes, cucumbers and peppers are grown . The products are mainly sold on the local market.
In Janfida and Aygeshat communities cherry and apricot harvest  was a full swing. Here the farmers are also pleased with the harvest. The fruit looks good, which allows to carry out large-scale exports.
"This year in Armavir region harvest of fruits, vegetables and especially grape is expected to be rich, in the spring farm work was carried out properly, the year is favorable and at the end of 2015  we are expecting  good indices in all aspects," noted the Minister of Agriculture in his speech.
The Minister said that this year's yield is expected to be generally high across the country, there is no problem in terms of sales, about 600 tons of apricots, 800 tons of cherries , 850 tons of tomatoes and 2220 tons of cucumbers have already been exported while in the whole 2014 only 40 tons of apricots, 370 tons of cherries, 220 tons of tomatoes and 415 tons of cucumbers were exported.
The Minister also said that at the end of the year  steep rise will be in export volumes, this year a total of about 24 600 tons of fruits and vegetables have already been exported, which is about 1000 tons more than last year.
The Minister also assured that there will be no problems with the procurement, processing companies will start organizing the procurement after the mass harvesting.
Division of Information and Public Relations of
the RA Ministry of Agriculture 
Print