Issues Are Discussed Related to the Organization of Exports
2015-06-10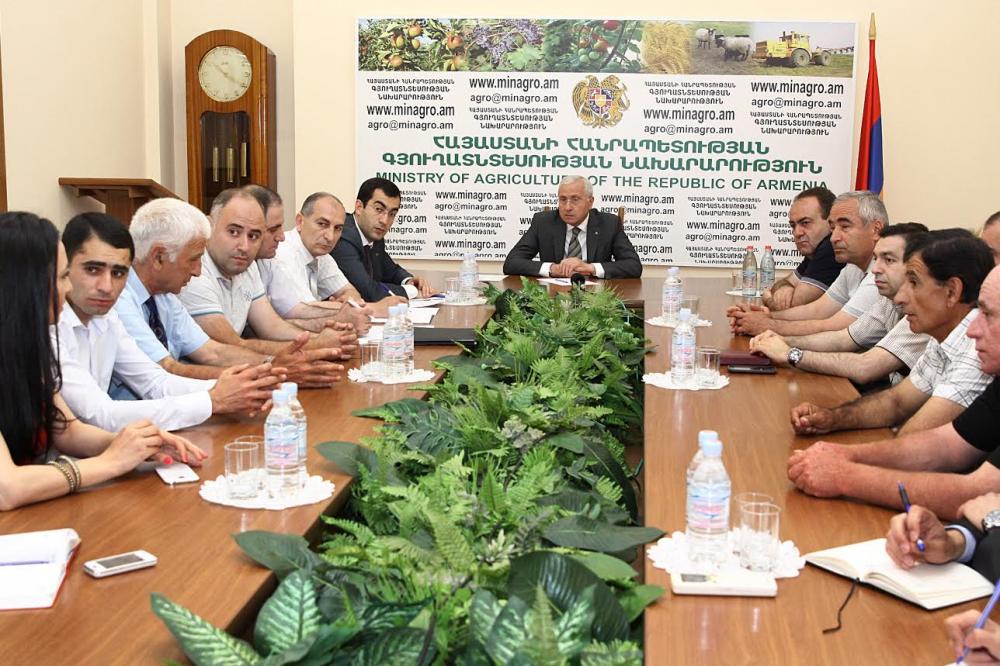 The RA Minister of Agriculture Sergo Karapetyan held a meeting with the representatives of the exporting companies operating in the country to discuss the current issues related to the seasonal export of fresh fruits and vegetables.
Noting that the agricultural year is fruitful and this year particularly rich apricot and grape harvest is expected, the Minister highlighted the issue of exports.
"The export process is in progress, the export of apricots will begin in a few days, and today the  proper, timely and clear organization of export is on the agenda", noted the Minister Sergo Karapetyan.
The Minister added that Armenia's membership in the Eurasian Economic Union have created favorable conditions for the export of agricultural products. Procedures are simplified, so we have to take advantage of this opportunity and increase fruit and vegetable exports to the Russian market.
According to the representatives of the exporting companies batches of potatoes and cabbages are already exported, there are no documentation problems. As the main obstacle they have identified the Upper Lars checkpoint queues.
The spokesman of the "Spayka" company also said that this year they have come up with a new initiative, have purchased new machines by Russian car number-plates, through which we can freely export goods to Russia without queuing. They are able to download about 2-2.5 tons of crops, take the harvest directly from farmers, and other exporters may apply to this service for better organization of their activities.
The Minister once again urged to pay more attention to questions concerning the export process, to intensify agricultural activities, as well as expand the range of exported fruits and vegetables.
The Minister also said that the Ministry operates a hotline telephone service and urged exporters to raise all the issues in order to respond to and solve them quickly.
Division of Information and Public Relations of
the RA Ministry of Agriculture 

Print