The RA Minister of Agriculture Received the Representatives of the German KfW Bank
2015-05-11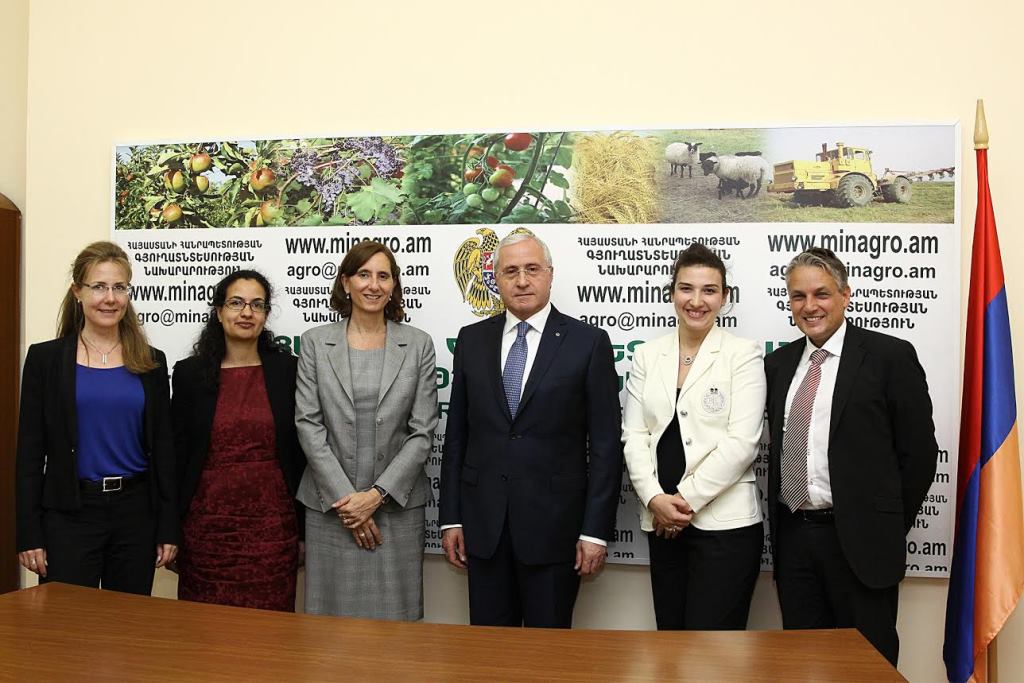 The RA  Minister of Agriculture Sergo Karapetyan received  the delegation of the German bank KfW  led by the Project Manager Eva Witt.
Highly appreciating the activity of the KfW bank in Armenia and the effectiveness of projects implemented in collaboration with the Ministry of Agriculture, the Minister stressed the necessity for the implementation of new projects particularly in the fields of irrigation and drinking water.
 "Irrigation is one of the most important preconditions for the development of the agricultural sector, and although in recent years thanks to the joint work with the KfW bank we have managed to achieve very good results in the field of water supply, but it is important to continue to implement joint projects in this direction for greater success,"  said the Minister.
During the meeting, issues of irrigation, water supply and disposal projects implemented by the KfW bank in Armenia were discussed, including the reconstruction of the  reservoir in Kaps, which will increase capacity to meet demand for irrigation water  in Shirak region.
Sergo Karapetyan proposed to carry out investigations and discuss the possibility of inclusion of the reservoir construction of Mastara in the bank's projects in response to which the KfW bank head said that the issue would be possible only with the studies of full use of groundwater and surface water.
With the proposal of the RA Ministry of Agriculture in collaboration with the Central Bank   mechanisms have been developed for the purpose of establishing the agricultural insurance system with the assistance of the KfW bank. In the result of joint debate it was considered appropriate to establish  insurance companies.
Referring to the implementation of agricultural insurance industry the Minister said that the RA Ministry of Agriculture expects assistance from the KfW bank.
During the meeting the KfW Bank representatives informed that the commercial banks and credit organizations operating in Armenia and financed by the German-Armenian Fund provide loans for agriculture. In addition, according to the project's second phase it is expected to receive 15 million euros, which is aimed at small and medium-sized enterprises.
The parties once again stressed the willingness for further cooperation and the need for the scope expansion of the joint project.
Division of Information and Public Relations of
the RA Ministry of Agriculture 
Print