The RA Minister of Agriculture Received the Newly Appointed Ambassador of Argentina
2015-05-18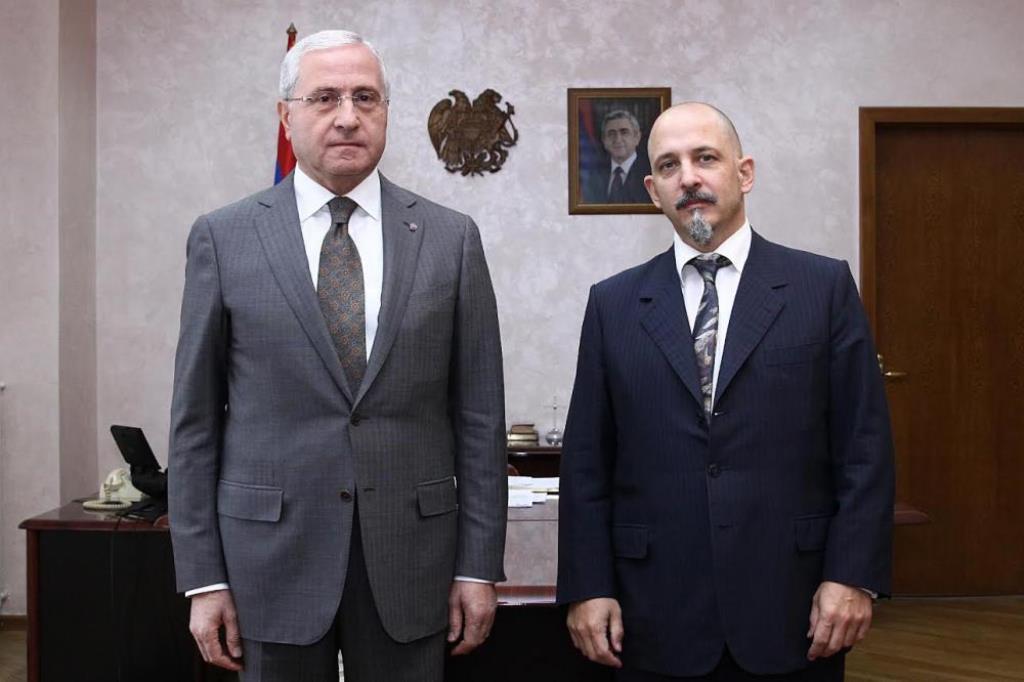 The Minister of Agriculture Sergo Karapetyan received the newly-appointed Ambassador Extraordinary and Plenipotentiary of the Argentine Republic to the Republic of Armenia Gonzalo Urriolabeitia.
Congratulating the guest on assuming his diplomatic mission in Armenia, the Minister expressed confidence that during his tenure the Armenian-Argentinean relations will deepen.
"During these years mutually beneficial relationships are established between Armenia and Argentina, especially in the field of agriculture. However, there is still untapped potential for cooperation between the two countries and we can get  impressive achievements through more efficient use of that potential, " said the Minister.
Thoroughly representing the Ambassador the current state of Armenia's agricultural sector, its achievements and results in recent years Sergo Karapetyan expressed confidence that   there are broad opportunities of cooperation between Armenia and Argentina, particularly in the breeding and processing industries.
In his speech the Minister emphasized the need for investments in agricultural development,  as well as the possibility of setting up joint ventures for agricultural production and increase of exports.
In this context, the Minister considered possible the establishment of livestock farms with the perspective of exporting processed products to the Eurasian Economic Union.
Expressing satisfaction with the Armenian-Argentinean high level cooperation in agriculture, the Ambassador Gonzalo Urriolabeitia assured that he will spare no effort to deepen cooperation in this direction.
During the meeting, they discussed issues related to the visit of Armenia's experts to Argentina in the framework of the bilateral cooperation.
Division of Information and Public Relations of
the RA Ministry of Agriculture
Print