Around 3 000 Tons of Dutch High-Quality Potato Planting Substance are Imported
2015-05-19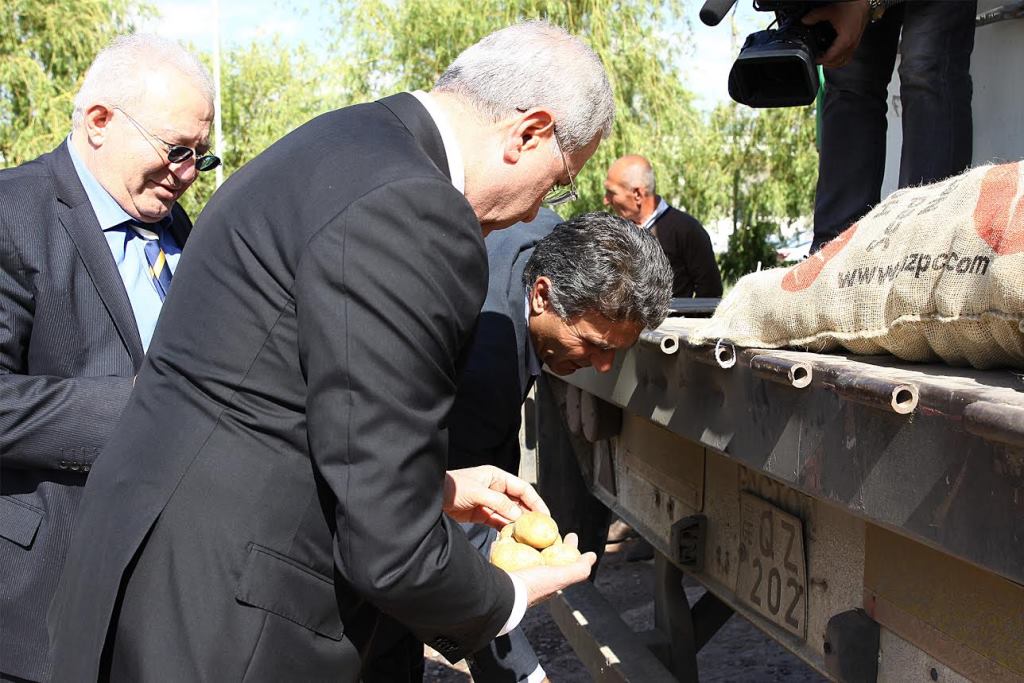 The RA Minister of Agriculture Sergo Karapetyan and the chairman of the Agrarian-Peasant Union of Armenia Hrach Berberyan visited the customs terminal "Firma New" in Kotayk region to observe the potato planting substance imported from the Netherlands by the Agrarian-Peasant Union of Armenia with the assistance of the Ministry of Agriculture.
"This is the last batch of Sylvana potato seeds imported from the Netherlands which provides a yield of 80 tons per hectare. According to forecasts the fields of potatoes will be extended by 1000-1200 hectares in the current year. Correspondingly the gross harvest will increase", – said the Minister Sergo Karapetyan in his speech.
The Minister added that on account of the good yield of the imported planting substance the total sowing area of potatoes increased by 12% compared to 2010 and the gross crops  increased by 40-50%. As a result in the last 3-4 years not only the country's domestic demand was met but also a large number of exports were implemented.
The Minister said that this year more than 3,000 tons of seedlings are imported than  last year. In the country  generally 100-120 000 tons of potatoes are used per year.
In turn, Hrach Berberyan said that the potato growing is an export-oriented branch and has a great demand in foreign markets, therefore  intensive additional projects of developing high-yielding potatoes are currently discussed with the Ministry of Agriculture.
Division of Information and Public Relations of 
the RA Ministry of Agriculture 
Print