The RA Minister of Agriculture Sergo Karapetyan participated in the Global Forum for Food and Agriculture
2014-01-20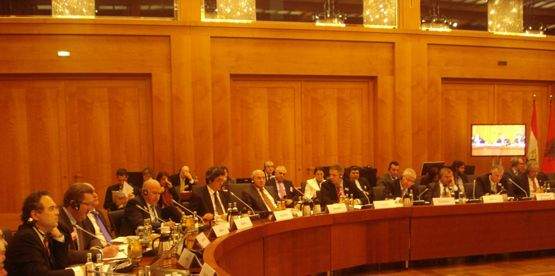 The RA Minister of Agriculture Sergo Karapetyan participated in the Global Forum for Food and Agriculture in Berlin. The forum was attended by Ministers of Agriculture from 72 countries. 
The participants of the forum touched upon the role of agricultural cooperatives in small farms of developing countries, as well as upon new opportunities for investment and approaches in the agricultural sphere.
A joint communiqué is adopted, which calls for measures to ensure people's right to safe food and to develop cooperation in the field of agriculture in the national and international levels.
The United Nations declared 2014 as the International Year of Family Farming.
Within the framework of the forum the RA Minister of Agriculture had meetings with the Ministers of Agriculture of Federal Republic of Germany, the Netherlands, Austria, Estonia, Bulgaria, Ukraine, Russia, Georgia, Moldova, Canada, Iraq and Iran, the Ministers of Agriculture.
The meetings focused on bilateral relations and issues related to the development of cooperation in agriculture.
Sergo Karapetyan met with the representatives of German "KLAAS" company specialized in the manufacture of agricultural machinery and tools.
He participated in the opening ceremony of "Berlin Green Week" annual agricultural exhibition.
As it was previously reported our country took part in the exhibition with a separate pavilion, where brandy, wine, juices and other food products  produced in Armenia were exhibited.
Print