First organic agriculture module was launched in armenian colleges with handbooks
2018-09-19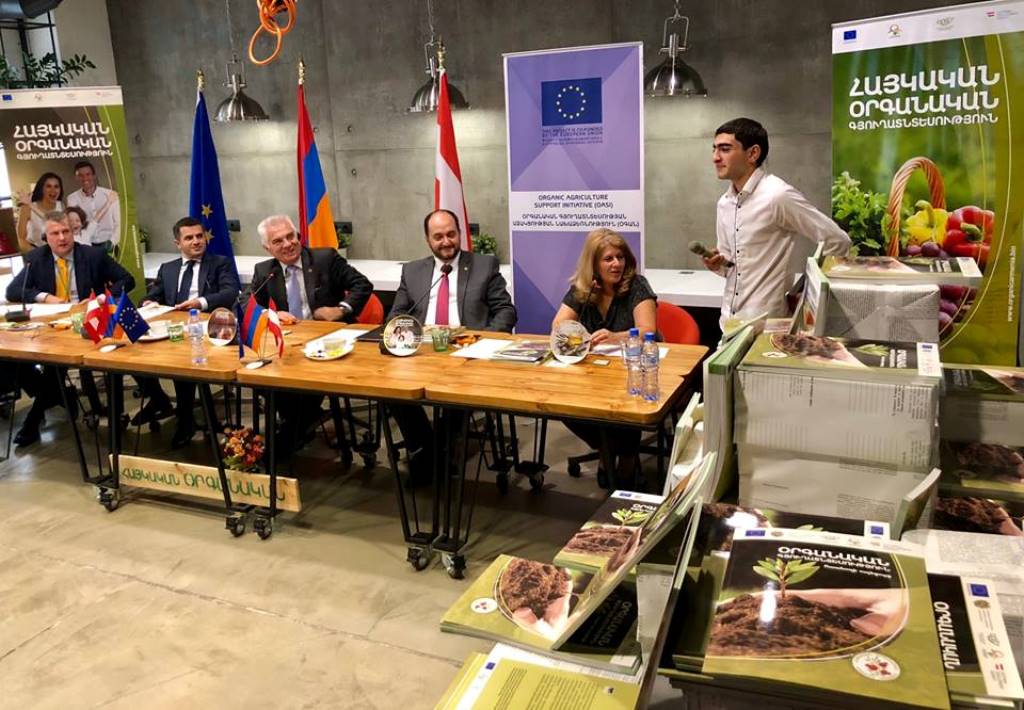 On 18 September 2018, the results of a fruitful cooperation between the RA Ministry of Education and Science and the "Organic Agriculture Support Initiative" (OASI) project were presented. The OASI project is funded by the European Union and co-funded and implemented by the Austrian Development Agency. During the event the successful development of an Organic Agriculture Module for the curriculum of the Armenian Agricultural Vocational Education and Training (VET) Institutions and creation of methodological handbooks for teachers and students were highlighted.
"We believe that the new courses can boost the student's career opportunities in the newly emerging, but competitive organic sector and Armenia will have a number of highly skilled professionals in sustainable agriculture related jobs", said the EU Ambassador to Armenia Piotr Świtalski.
Specific course objectives are to provide graduates with a deep knowledge on organic production, technologies, legislation, inspection, certification and labelling of organically produced food and an understanding of the marketing, business & quality assurance requirements.
RA Minister of Education and Science Arayik Harutyunyan said: "Thanks to the educational module, students will gain a good knowledge on organic agriculture, food production, and marketing. I am confident that this course will help them in future career planning and professional advancement in the field of organic agriculture, which is a growing sector in Armenia."
In close cooperation with the RA Ministry of Education and Science and the National Centre for VET Development (NCVETD) we have developed student handbooks and methodological guidelines for professors using international best practice. We also cooperated with the colleges, universities, organic farmers and SMEs to include their recommendations in the curriculum", – said the OASI Project Team Leader Mr. David Muckenhuber.
VET college teachers and students, representatives of other educational institutions, as well as representatives of involved organizations and organic producers attended the event and received copies of the handbooks.
Source: Facebook page of  OASI project
Ս
Print