The Possibilities Of Cooperation Were Discussed With The Pum Netherlands Senior Experts In The Ministry Of Agriculture Of RA
2017-02-09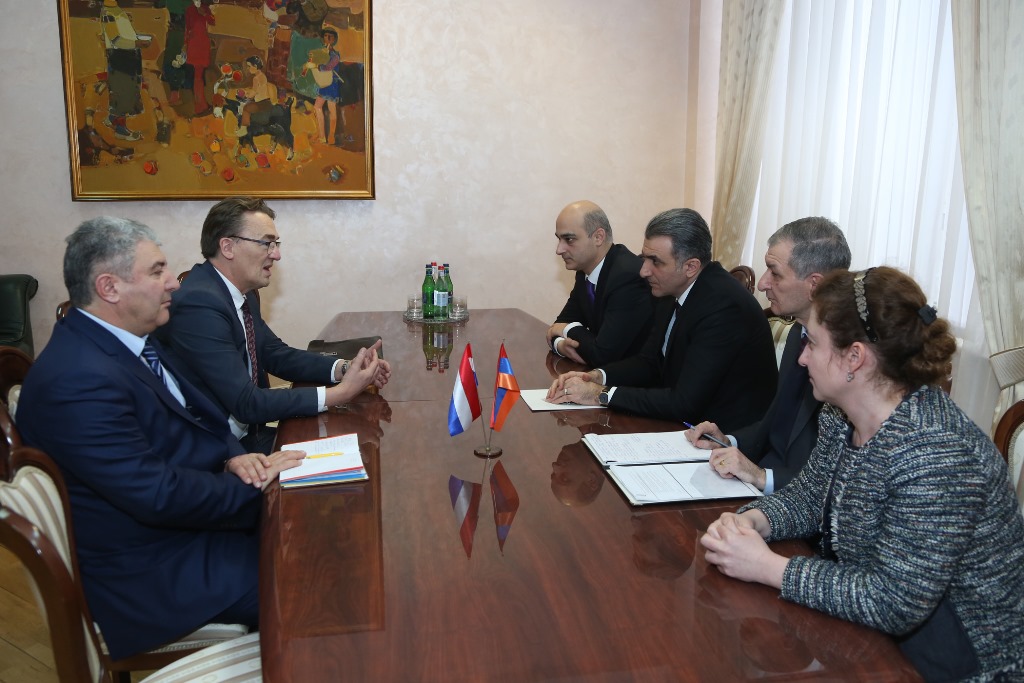 Mr. Ignati Arakelyan, RA Minister of Agriculture today had a meeting with Mr. Albert Westerings, Coordinator for Armenia of PUM Netherlands Senior Experts Foundation, in order to discuss the possibilities of enlargement of cooperation in the field of agriculture. Mr. Ishkhan Karapetyan, Head of State Service for Food Safety of RA MoA and other officials were also present at the meeting.
This Foundation, funded by the Netherlands` Government, is aimed at promotion of sustainable development of small and medium companies through entrepreneurship and job creation. PUM supports entrepreneurs with technical means, organizes short-term expert missions by businessmen, experts and volunteers providing practical knowledge and experience.
"Highly qualified specialists are needed for the further development of the agriculture in Armenia. We hope that PUM will support us for the training of Armenian specialists", – Mr. Ignati Arakelyan, Minister noted. 
In his turn, Mr. Albert Westerings noted that PUM was always interested in agricultural sector and he expressed readiness to support the organization of conferences and seminars in Armenia.
Taking into consideration the successful experience of Netherlands in different sectors of agriculture, Minister suggested discussing the possibilities of development of cooperation in the field of bee-keeping by the involvement of Dutch experts for the further expansion of cooperation.   
During the meeting two sides discussed issues regarding increase of the competitiveness and marketing of Armenian products in foreign markets and other issues.
Division of Information and Public Relations of
the RA Ministry of Agriculture
Print