Gegharkunik, the Leader on the Level of Land Use: Today Minister of Agriculture Held a Consultation in the Marz
2015-02-27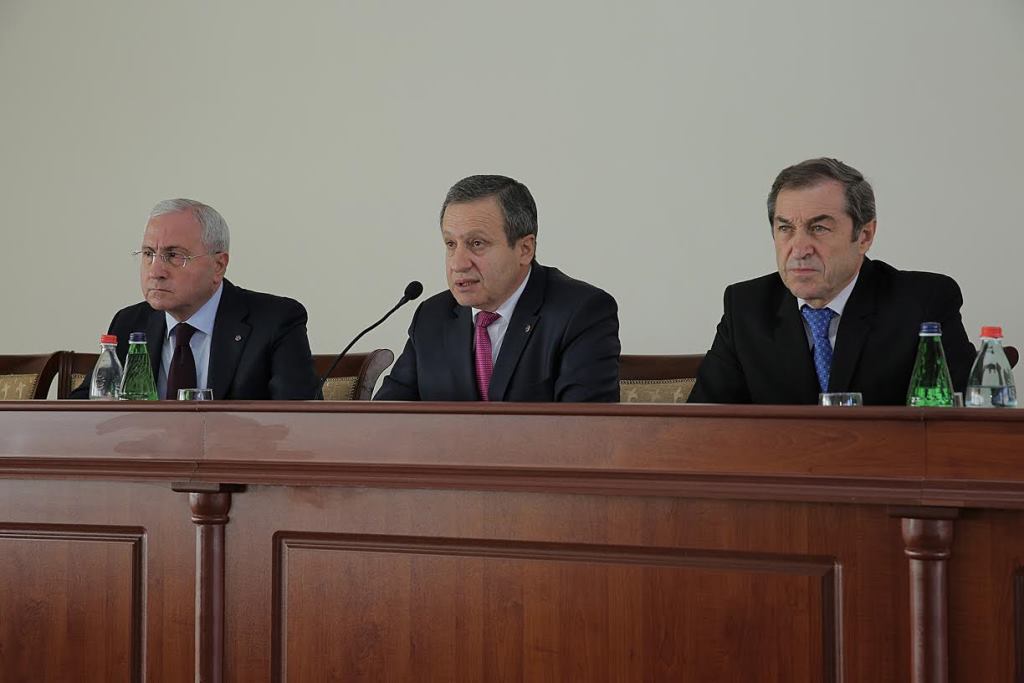 Today towards the launch of spring agricultural activities Sergo Karapetyan, RA Minister of Agriculture, held a consultation in Gegharkunik Marz. The consultation was attended by Marzpet (Marz Governor) Rafik Grigoryan, Gagik Khachatryan, Director of Agriculture Project Implementation Unit, community heads, officials in water and other sectors. 
"Gegharkunik Marz is the leader in the Republic in the use of arable lands and cultivation of cereal and leguminous crops in 2014", – Sergo Karapetyan mentioned in his speech.
Particularly, according to the Minister's words, by operative data 76 315 ha (93.4%) of the total 81 739.7 ha arable lands available in the marz was cultivated in 2014, which is 1745 ha more than it was in the previous year. And the sowing areas for cereals and leguminous crops were 44 102 ha in 2014. According to predictions 44 572 ha sowing will be performed in 2015, which is 470 ha more than it was the previous year.
Highly evaluating the results recorded in the marz under "Community Agriculture Resource Management and Competitiveness" Project (CARMAC) implemented by the RA Ministry of Agriculture with the assistance of the World Bank the Minister emphasized that agricultural cooperatives were established in 20 communities of the marz and the marz took the first place by this indicator as well.
The Minister also informed that the second stage of the project had already launched which would provide opportunities to increase the production volume of the products realized and exported in the spheres of milk, meat, fruit, vegetable, high value soft fruit and honey production.
Referring to the irrigation problems existent in the marz the Minister assured that the responsible people for the sector would visit the marz in the nearest future to get introduced to the problems on the spot and give solutions to them.
At the end of the consultation Ivan Asatryan, a farmer in Mets Masrik community of Gegharkunik marz, was rewarded with a golden medal for "Agricultural achievements" by the RA Ministry of Agriculture for a considerable contribution and fruitful work in the development of agriculture, and several representative of the sphere were given acknowledgement letters.   
Then the Minister visited "Ara-Areg" LLC engaged in milk processing in Lchashen community and followed the process of works.
The Director of the company informed the Minister that for the moment works toward milk collection center, laboratory, enlargement of cheese production unit, as well as improvement of sanitary hygienic conditions and furnishing of the necessary equipment were being implemented.
The company collected around 600 tons of milk in 2014, and around 100 tons of milk as of February 25, 2015 paying the farmers 170 AMD per liter. 
Division of Information and Public Relations of
the RA Ministry of Agriculture
Print